IPS e.max CAD is the clinically proven lithium disilicate block which provides the solution for all your CAD/CAM needs.
IPS e.max CAD is an innovative lithium disilicate glass-ceramic for fabrication in-house utilizing authorized chairside CAD/CAM systems. This unrivalled material combines highly esthetic qualities with exceptional user-friendliness. Unlike other CAD/CAM materials, IPS e.max CAD covers a comprehensive spectrum of indications. A wide range of translucency levels, shades and block sizes offer greater flexibility for challenging clinical situations. Tried-and-tested cementation materials have been specifically designed to complement IPS e.max CAD to provide long lasting and durable restorations.
IPS e.max CAD blocks can be milled in the Ivoclar Vivadent PrograMill One, the CEREC System (Sirona) and Planmeca FIT System (E4D Technologies).
IPS e.max CAD – The highlights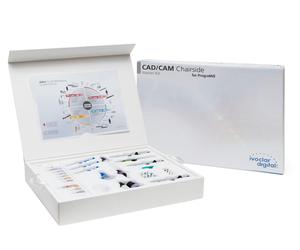 Leading CAD/CAM material – considerably higher strength compared with competitive glass and hybrid ceramics
Broad range of indications
Scientifically and clinically proven
Wide availability due to the CAD/CAM partner network (fabrication in-house and by authorized milling centers)
Tried-and-tested cementation materials are coordinated to work specifically with lithium disilicate (LS2)
Indications
Veneers (0.4 mm)
Inlays, onlays
Partial crowns
Crowns
Three-unit bridges (up to the second premolar as the terminal abutment)
Additional IPS e.max CAD Applications
IPS e.max CAD Abutment Solutions
IPS e.max CAD Abutment Solutions are designed for the fabrication of implant-supported hybrid structures for single teeth using CAD/CAM technology. The hybrid components are individually milled from IPS e.max CAD lithium disilicate blocks and bonded to a titanium base.
Depending on the patient situation, a temporary Telio CAD Hybrid Abutment crown is inserted immediately after implant placement. This temporary restoration offers many options in terms of soft tissue management and forms the basis for an esthetic and functional permanent IPS e.max CAD restoration.
The IPS e.max CAD A14 and A16 blocks feature a pre-fabricated interface, e.g. for the Sirona Ti base. The blocks are available in several shades and two levels of translucency, MO for hybrid abutments and LT for hybrid abutment crowns.
Indications
Hybrid abutments
Hybrid abutment crowns
IPS e.max CAD Veneering Solutions
IPS e.max CAD Veneering Solutions are CAD/CAM manufactured veneer structures for zirconium oxide frameworks (ZrO2). The unrivalled combination of lithium disilicate (LS2) and zirconium oxide (ZrO2) enables the creation of tooth and implant-supported bridge restorations (CAD-on) of exceptional strength and esthetics.
Indications
Crowns
Bridges (three-unit and multi-unit, also on implants)